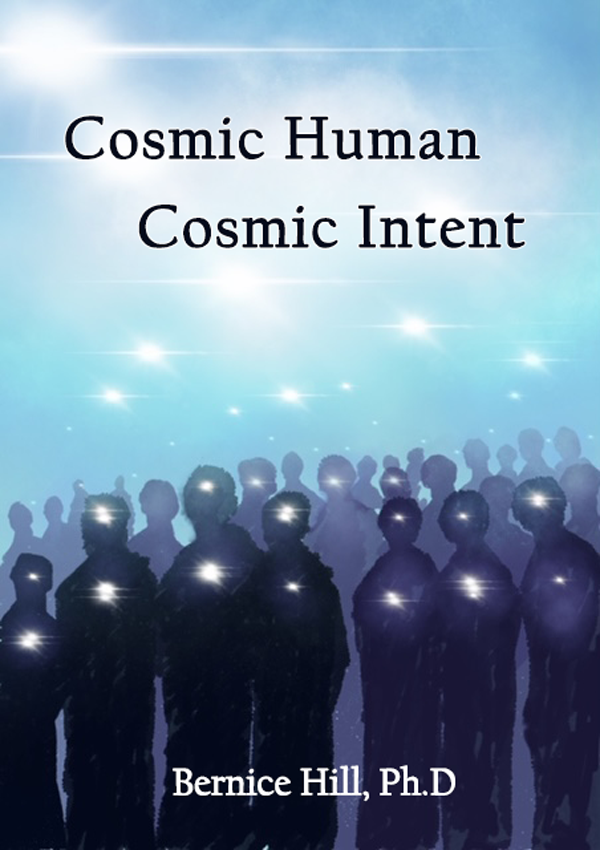 COSMIC HUMAN – COSMIC INTENT
The Soul on its Cosmic Journey passes through veils and valleys, all shifts of perceptual states. Moving through the turbulence of earthly life, and death and rebirth it finds its homing instinct to the Light. From the perspective of the Ageless Wisdom teachings and thoughts of Carl Jung, this book explores the heart opening potential of these times. As our psyche awakens to our multidimensional potential, we find ourselves in an amazing new context: filled with new worlds, lighted beings and larger challenges. Can we sense the true Design?
---

Bernice H. Hill, Ph.D. is a Jungian Analyst, in private practice for over thirty years in Boulder Colorado. She is a member of the International Association for Analytic Psychology and Senior Training Analyst with the C.G. Jung Institute of Colorado. Bernice trained with the Inter-Regional Society of Jungian Analysts completing that program in 1990.
Over the years Bernice has made numerous presentations on Jungian topics to Friends of Jung Societies in Tucson, Kansas City, Colorado Springs, Denver and Boulder. She has also conducted holotropic breath workshops at the Monroe Institute in Faber, West Virginia, and in Los Angeles. She has been involved with philanthropy conferences at MIT and Naropa University in Boulder, CO. Her current interest is the opening of human consciousness to the awareness of its cosmic potential.
Most recently, Bernice authored two books: Spiritual Perspectives on Death and Dying (2015) and Emergence of the Cosmic Psyche: UFOs and ETs from the Perspective of Depth Psychology (2013).
Her publications include:
• The Cider House Rules in Quadrant, Winter 2001
• Money and the Spiritual Warrior. Five Centuries Foundation, 2004;
• The Phantom of the Opera in Quadrant, Summer 2005;
• When the Impossible Happens (Book review) in Bridges, Spring 2007: Journal of The International Society for the Study of Energy and Energy Medicine.
• The Fountain in Psychological Perspectives Spring 2008;
• The Emergence of the Cosmic Psyche: Extraterrestrials and Subtle Energy, Bridges, Autumn 2000, Journal of the International Society for the Study of Energy and Energy Medicine.
• Reflections on Religion and Exopolitics, in Exopolitics Journal, Vol 3:2, 2009.
• Sophia and Sustainability in "Love of the Fifth Spiritual Paradigm", The Oracle Institute Press, 2010.
Bernice has built a straw-bale home in Crestone, Colorado and has a deep love of nature, her family and her six grandchildren.
What about sexual problems and levitra cost? Viagra is a medication used to treat divers upsets. Although erectile dysfunction is more joint in men over 75, men of any age canevolve sexual health problems. Such problems generally signal deeper soundness problems: low libido or erectile dysfunction may hide a grave heartiness problem such as levitra price. Various diseases can affect the blood flow that will lead to emasculation. In fact, a medical reviews found that up to three quarters of men on these physic experience side effects.